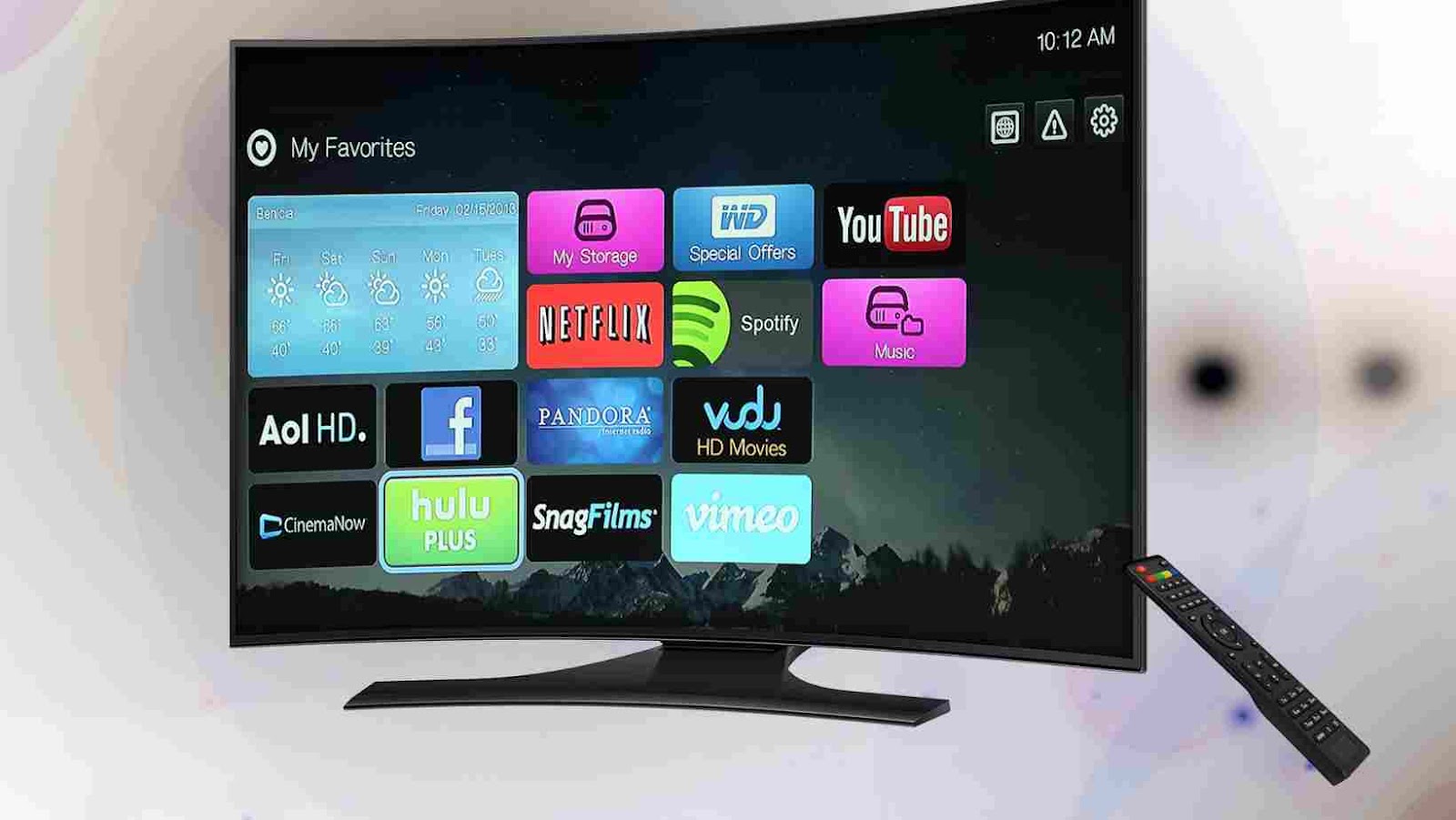 Apple TV is a digital media player and microconsole that provides access to streaming services, digital content from apps, and other media from the internet. It is a great way to access your favorite content from one device, making it easier for you to enjoy your favorite shows, movies and games.
With Apple TV, you can either access content from your own library or from a variety of streaming services. In this article, we will take a look at what Apple TV is and what it can offer you.
Apple TV is a digital media player developed and sold by Apple Inc. Connected to an HDTV or other display device, it allows consumers to stream content including movies, television shows, music, photos and more from the iTunes Store, Netflix, Hulu Plus and other sources directly onto the big screen.
The Apple TV runs on a variation of Apple's iOS (the same operating system used in their iPhone and iPad devices). The current version includes support for 1080p content at up to 30 frames per second with Dolby Digital 5.1 audio. It also has AirPlay technology built-in which allows you to wirelessly stream content from your iOS devices or Macs directly to the big screen using your Wi-Fi connection.
The software interface of the Apple TV is simple yet intuitive to use with a unique two-panel design which displays both content categories (movies; TV shows; podcasts; etc.) as well as individual titles within each category on one page for an easy browsing experience.
Apple TVs are available in many countries around the world and can be purchased from most major electronics stores or from the official Apple website.
What are the features of Apple TV?
Apple TV is a digital media player and microconsole developed and sold by Apple Inc. The device is a small network appliance and entertainment device that can receive digital data from various sources, such as the iTunes Store, and stream it to a television or other video display. Apple TV is an easy way to watch all your favorite movies, shows, and more on your HDTV.
With features such as iCloud integration, built-in access to music streaming services, AirPlay for wirelessly playing audio throughout the house, voice control via Siri Remote, gamer-friendly features like 1080p gaming at 60 frames per second, plus access to thousands of apps for streaming video and photos from the Internet or personal media libraries—all with just one connection to the Internet—Apple TV makes it easy to enjoy great content on the big screen in your living room.
The following are some of the key features available with Apple TV:
Access to iTunes store with over 100k movies & TV episodes.
Access over 40 music services like iHeartRadio & Spotify.
Voice search using Siri Remote.
AirPlay streaming technology – wirelessly stream audio throughout your home.
1080p gaming at 60 frames per second.
TV app which aggregates content from large banks of sources.
Cloud integration enabled – all content purchased is stored securely online through iCloud.
Hardware
Apple TV is a digital media player created by Apple Inc., which allows users to stream audio and video from the internet or from local sources such as iTunes library or from media stored on an iPad, iPhone or iPod Touch.The device connects to a television set or other display and is controlled by an Apple Remote. The device runs a customized version of the Apple TV Operating System.
Let's take a look at the hardware specs of this device:
Overview of the hardware
Apple TV is a device designed for streaming video content, playing music and downloading applications. It is available in two versions, the fourth-generation Apple TV and the fourth-generation 4K Apple TV. In both versions it comes with a voice remote control with which you can make searches using Siri, and have access to various apps such as YouTube or Netflix.
The fourth-generation Apple TV has an A8 processor. With this chip it is capable of streaming Full HD 1080p resolution video at up to 60 frames per second. The 4K version features an A10X processor, which allows you to stream Ultra HD 4K content at up to 30 frames per second. Both models have 802.11ac Wi-Fi connectivity and 10/100 Ethernet, making them ready to connect to home networks via cable or Wi-Fi technology.
Storage on both models is 32 gigabytes (GB). The ports are:
HDMI 1.4 for video output
Micro USB for developer use only
Tethered 3 Voice Mic headphone jack for connecting headphones or speakers that work with Apple's Voice Mic accessory
An Ethernet port so you can connect the device directly via cable to networks larger than home networks (such as hotel networks)
They also offer a built-in infrared receiver compatible with most universal remotes and AirPlay support for streaming content from iOS devices like iPhones and iPads directly to your TV.
What are the different models?
Apple TV is a digital media player that allows users to play content from the iTunes Store, Netflix and more on their television. It creates a bridge between your Apple devices and your TV, giving you easy access to movies, music and other content. There are currently four generations of the Apple TV available on the market:
First generation (2007): This model was the first version of Apple TV to be released. It had an Intel processor with HDMI output, an optical audio port and an Ethernet port. The first generation allows users to purchase or rent movies from the iTunes Store but does not have any apps preinstalled.
Second generation (2010): This model features an A4 chip processor with HDMI output, optical audio port and built-in Wi-Fi. Like its predecessor, it also has access to the iTunes Store but there has been some device capacity added since its initial release including apps like YouTube, Netflix and Vevo as well as support for streaming content directly from compatible Macs or PCs using AirPlay.
Third generation (2012): This version includes 1080p resolution video streaming capabilities powered by a single-core A5 processor with HDMI output and an ethernet port for wire connectivity as well as built-in Wi-Fi on both models. It also has access to many popular applications such as Hulu+, YouTube, HBO Go/Now etc., through its App Store integration feature called AirBrush 4K HDR Android Smart TV OS experience that allows you to watch live sports, catch up shows etc., through one interface in HD quality for TVs that do not have professional grade smart TVs chipsets installed on them at factory level.
Fourth generation (2015): Newest iteration comes with many additions such as Siri integration which can be used to search for TV shows using voice commands; full Universal Search so you can find content across all applications; 1GB of RAM in addition increased processing power; AirPlay 2 technology which allows faster mirroring between devices; Homekit integration which lets you control your home's lighting via Apple TV etc.,
Software
Apple TV comes with an operating system called tvOS, which is based on iOS. It has a lot of features like multitasking, 4K video, and Siri integration. tvOS also has a dedicated App Store, where you can find all types of apps and games.
There are lots of ways to customize your experience with Apple TV and tvOS, so let's take a look at the software side of everything:
What type of content can you access?
Apple TV allows you to access a range of content. You can watch movies and TV shows through popular streaming services, such as Netflix, Hulu, and Amazon Prime Video. If you have an Apple Music subscription, you can also listen to music on your Apple TV. You can also access content from websites including YouTube, iTunes Movies and iTunes TV Shows.
With Apple TV, you can connect to a subscription channel service to watch live sports and other news programs. You can also purchase or rent films in the Apple TV App Store. Finally, any content downloaded onto an iPhone or iPad is accessible on your Apple TV as well.
What are the available apps?
The Apple TV app selection includes a wide range of apps, allowing users to watch the latest television shows and movies, listen to music, play games and more. Many streaming services are available for Apple TV users, including popular subscription-based apps like Netflix, Hulu and Amazon Prime Video.
Popular social media platforms such as Facebook, Twitter and YouTube also offer native apps for the device.
In addition to streaming services, Apple TV also provides access to interactive educational content such as the NASA TV app or language-learning apps like the Rosetta Stone. Users can also make use of tvOS's app store for games including titles from popular developers such as TellTale Games or publisher Electronic Arts. Shopping apps like QVC provide a wealth of goods for both shopping and entertainment purposes.
Set Up
Setting up an Apple TV is easier than ever with the latest Apple TV 4K models. You can quickly connect your Apple TV to your home network and control it with a few taps. With the new remote, it's even easier to control your Apple TV than ever before.
Let's take a look at the device setup process step by step:
How to set up Apple TV
Apple TV is a digital media player made and sold by Apple. It's a small, unobtrusive device that connects to your television, allowing you to stream content from your favorite services: movies, music, and more.
Setting up an Apple TV is easy and hassle-free. Here's how:
Start by plugging in your Apple TV. Connect the power cord to the back of the Apple TV device and plug it into an outlet near the television.
Now, connect your Apple TV to your television. This can be done using an HDMI cable or a supported AV cable connector depending on which model of Apple TV you have or if you have older equipment like CRT televisions etc.). Make sure the HDMI cable is securely inserted into both ports (Apple TV and television). The ports will be labeled appropriately in most cases so double-check before inserting!
Turn on both the AppleTV device and the television – ensure that you make sure they are both powered on before proceeding with setup!
Using either the included remote or via a compatible iOS/Android phone or tablet with AirPlay enabled–select language preference for yourself as well as understand any applicable warranties/ terminology presented during setup – hit OK (or FINISH as appropriate) once this step is completed!
Read through/ accept any applicable terms of service when prompted–this will be presented during activation so make sure to pay close attention here!!! Finally, choose whether or not you would like to sync data from other devices such as iPhones/ iPads etc..– once this part has been completed – congratulations! You have now successfully set up your new streaming Device – ENJOY!!
How to connect to your TV
The quickest and simplest way to connect your Apple TV to your television is to use an HDMI cable. For the highest resolution, you'll also want a cable that supports 4K and/or HDR. Once you've connected the two devices with the right cables, go ahead and locate the HDMI input port on your TV by referencing either its manual or online documentation. Now, plug in one end of your HDMI cable into the Apple TV device's HDMI port (located at the rear or side) and plug in the other end into your TV's HDMI input port.
Depending on how old your television is, you may need an adapter for both technology compatibility and connection ports. Be sure that your television supports either 4K High Dynamic Range (HDR), or Dolby Vision before buying an adapter for it to take advantage of more advanced features when streaming content from Apple TV. Once everything is connected up correctly and securely, switch over to the correct source for whichever port you plugged in to continue with setup.
How to connect to the internet
Before you can use your Apple TV, you will need to connect it to the internet. Depending on the version of Apple TV you have, there are different ways to accomplish this.
Apple TV (3rd and 4th Generation)

These models have built-in Wi-Fi or an Ethernet port. To connect, connect your network cable (if available) or select Settings > Network > Wi‑Fi and select your home Wi-Fi network. Follow the onscreen instructions. Once connected, you will find many great content options such as movies, music and streaming video services like Netflix and Hulu Plus.
Apple TV (2nd & Earlier)

These earlier models require an Ethernet cable for every connection to get internet access. Make sure your Apple TV is near the router that is being used for the connection and then plug in the Ethernet cable from the router into the Apple TV network port on the device. Once successfully connected, access content such as movies, music and streaming video services like Netflix or Hulu Plus through a local Wireless connection or Homeplug powerline adapter connection.
Follow additional instructions when prompted during set up in order to fully enjoy the benefits of having an AppleTV device in your home.
imac ipad apple tv may
Buying an Apple product can brighten your day with its exceptional performance and design. Each product has its own purpose to serve, but they are all remarkable devices that combine style, power and security.
The iMac is a great all-around desktop computer that offers powerful computing capabilities as well as gorgeous display options.
The iPad is a convenient device for everyday tasks such as surfing the web or checking emails on-the-go.
The Apple TV is the perfect streaming device for enjoying movies and shows on your favorite TV network apps or getting started in gaming by using its unique gaming controller.
Lastly, Apple has made the Mac the perfect laptop for college students and business professionals alike with their amazingly thin yet powerful design.
No matter which one you pick, you can't go wrong with any of these exceptional products from Apple!